365 Days in Horse Country – Rex: The Silver Screen Star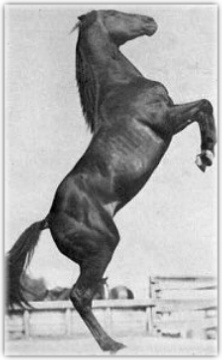 Equine movie stars have been around since the film industry first came into being. I have written about many of them too! A popular subject for movies, horse have proven themselves to be box office winners.
One early equine movie star was a black Morgan stallion named Rex, whose career spanned the 1920s and 30's. According to Petrine Mitchum, author of "Hollywood Hoofbeats", Rex was a difficult horse to train. Before Rex began his career as an actor, he was relegated to an isolated stall because he was difficult to handle, and a trainer had mysteriously died while alone with Rex. When trainer Chick Morrison discovered the horse, he immediately recognized Rex's charisma. He convinced Clarence "Fat" Jones, a supplier of movie horses, to purchase him.
Rex was wild in person and on camera, and audiences loved it. Rex starred in several films including "King of the Wild Horse", "Guardians of the Wild", and "Wild Beauty".
Rex's wild nature made him a temperamental star who quite when pushed too hard for obedience. For some scenes that required close-up shots with people and dogs, a horse named Brownie usually served as stand-in. Rex did learn to work at liberty, but he couldn't always be trusted. He once ran away from set in Nevada and was found 17 miles (27 km) away.
Rex was eventually retired to a ranch in Arizona where he died in the early 1940s.
Michael