365 Days in Horse Country – Swedish Warmblood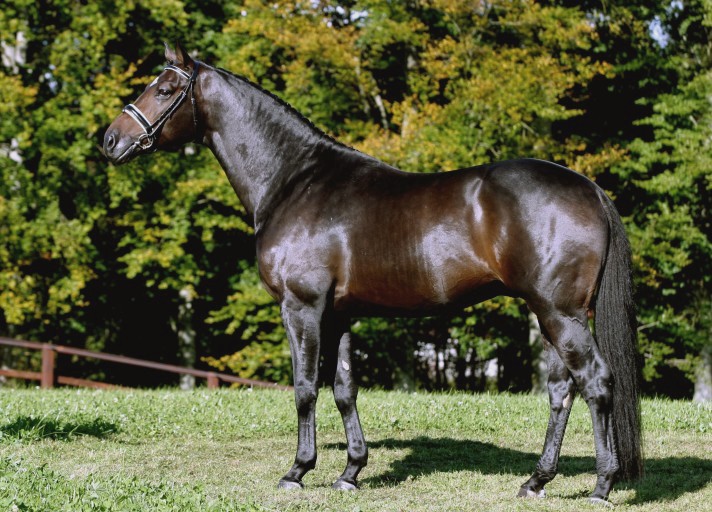 Unlike many sport horses that were originally developed as driving or working horses, the elegant and intelligent Swedish Warmblood has been bred in Sweden as a riding horse for more than 400 years. It was created as a military horse in the seventeenth century. Breeds that contributed to its development included Swedish work horses, Friesians, Hanoverians, Trakehners, and Thoroughbreds. The first official studbook for Swedish Warmblood horses was developed in the late 1800s. In 1928, breeders founded the Swedish Warmblood Association.
The breed is known for its exceptional athleticism, and as the need for horses in the military went by the wayside in the 1970s, the Swedish Warmbloods were repurposed as sport horses. They make excellent dressage horses, having both the mind and movement to excel in the sport. They also excel at jumping, three-day eventing, and carriage driving. Some members of the breed compete successfully in multiple disciplines. It's not unusual for Olympic riders on Swedish horses to medal in dressage and combined training.
Swedish Warmbloods stand from 16 to more than 17 hands and are distinguished by long, muscular necks, rhythmic gaits, willing temperaments, and versatility. The ideal Swedish Warmblood is noble in appearance, correct and sound, and has superb competitive temperament, riding ability, and movement or jumping ability.
Swedish Warmbloods mature slowly, and they may not reach their full growth until they are seven years old. Young horses are not started until age three, and they don't begin serious schooling until they are four years old. Approximately 3,500 foals are born each year in Sweden and approximately 150 Swedish Warmbloods are registered annually in North Amercia.
This is a friendly and sensitive horse with a positive attitude and competitive nature. Treat it with "horse sense", and it will give you its best.
Michael